Welcome to Blanco BBQ in San Antonio
A great place to bring the entire family for a scrumptious meal and a festive good time. (Click for 360° tour)
Located next to Hardberger Park under the majestic oaks, the country setting will make you forget you are inside the city limits.
Click here for location
Relax and enjoy your meal inside our spacious dining room or move outdoors to a table on the deck where your kids can let off steam on the playground below. Our Playscape is state-of-the art and kid approved!
We offer a premium product that the whole family will enjoy.
"Come Taste the difference at Blanco BBQ".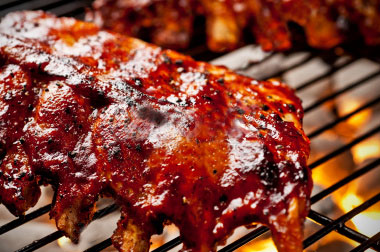 About our Food
We start with the BEST ingredients, 100% Black Angus Brisket (which we smoke for 14 hours), homemade Polish sausage, hand-selected pork ribs, pork butt, hams, chicken, and turkey breast.
We smoke our meats with a mixture of Texas Oak and Pecan wood, and brine our chicken and turkey for 8 hours, to be super-moist and flavorful. We make all of our own spice rubs, each one specifically for each meat. And yes–we cook slow and low. Lower temperatures require more time, but the product is extra juicy!
All of our sides are homemade!
The pecan pie is out of this world!
Favorites include cream corn, mac n cheese, potato salad, cole slaw, charro beans, green beans and steamed broccoli. Your Blanco BBQ experience will not be complete without sampling our deserts.
To quote one of our regular guests… The pecan pie is out of this world!
Picnic in Hardberger Park?
Check out our Drive-thru and choose from 9 different Family Value Packs. Make it a Picnic Pack – with plates, cups, ice, silverware and wet naps. Don't forget your gallon of Blanco's Sweet Tea. We are literally next door to the park so your picnic will be up and running in a matter of minutes.  Talk about convenience!
Blanco BBQ Catering
Let us handle all your catering needs. Our Party Room will accommodate up to 100 people or we can bring the party to your place (we can accommodate corporate events and parties up to 1000 people offsite). With 8 different menus to meet your needs your event will surely be historic.
Click here for Catering Information
Did somebody say Breakfast!
The Drive-thru is open early for breakfast every day, serving a variety of Breakfast Tacos and your favorite breakfast sides and beverages!
Beverages for grown-ups
Blanco BBQ offers a variety of domestic and imported beer (on ice) as well as select wines.
See you at Blanco BBQ. Open 7 days a week!